HEY YOU!
Do you love to request colorbars?
Do you love to fill colorbar requests?
Or...
Do you love finding new colorbars?
Do you love making colorbars?
Do you love colorbars, period?
If you've answered yes to any of these questions,
colorbar_req
and
colorbar_crazy
are the communities for you! Join today, because...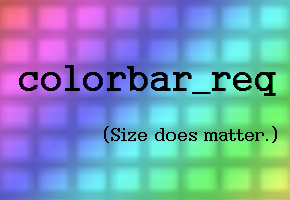 And...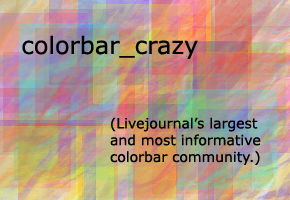 As you may or may not know, I am currently working on the MASTER LIST of all colorbars. However, the bars that are included
must
be posted at
colorbar_crazy
, or at least linked from there in an entry. This is for practical reasons. If the posts are at
colorbar_crazy
, I know they won't be deleted... along with the community. *cough*
colorbar_love
*cough*
The list is located
HERE
, though it is far from completed.
PLEASE POST YOUR COLORBARS AT
colorbar_crazy IF YOU'D LIKE YOUR COLORBARS TO BE INCLUDED IN THE LIST!
Also, if any of you know of any colorbar tutorials, or even basic web tutorials, please send me a link to them! I'm trying to compile a large assortment of colorbar tutorials over at
colorbar_req
, so any and all help is appreciated!
(I do not believe that this post violates any [written] rules of this community. However, if it bothers or offends you, feel free to delete it and please accept my apologies.)